Band saws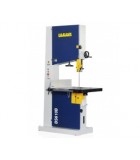 Band saws are extremely popular woodworking machines, as they take up little space in the case of a small workshop. They enable both resawing of large workpieces and precise sawing of round elements and rounds. In addition, we adjust the width/type of the saw blade to the purpose of processing.
Our range of band saws includes, among others, Woodma saws, which are low-cost and suitable especially for hobby users who still want a heavier/larger machine.
Minimax S45n series, which has been extremely popular in recent years. Its features are exceptional accuracy, quality, powerful motor, and affordability.
For carpentry workshops and larger production facilities, the manufacturer Centauro is synonymous with the quality and robustness of band saws.
The choice between sawblade sizes ranges from 400 mm to 1000 mm, and for sawmills, the offer also includes band splitters with or without a workpiece feeding unit.
Showing
1
-16 of 16 item(s)
Band saws are especially designed for precision machining of wood and comparable materials, sawing rounds, oval elements ... Such a saw is stable, strong and accurate, but also affordable for those for whom woodworking may be just a hobby.
If you need a saw that will be used daily and regularly, then choose from Centauro saw models. Their saws are robust and powerful, high-quality and flexible, so that they allow versatile use.
One of the advantages is certainly that the saw takes up little space and at the same time can do a lot of work. Band saws can be used for straight as well as curved cuts, to which you will of course adjust the width of the blade itself, but otherwise such saws are nevertheless a heavy and stable machine that works well in both home workshops and larger plants.