Sanding / Accessories / materials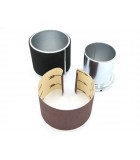 We use grinding discs with a diameter of 60 to 350 mm for machine grinding on benchtop wood shapers. Larger grinding discs have sandpaper with bristles to support the sandpaper – they are used when sanding profiled workpieces, and we use diamond grinding discs and grinding stones for cutting tools. Diamond discs are available in various dimensions and sizes, and their main advantage is that they can be used to sharpen carbide cutting tools. For sanding details and demanding profiles, we have sanding sponges and sanding blocks with sandpaper. For a longer service life of sandpaper, we offer a sandpaper cleaner the use of which extends the service life of sandpaper by up to 400%.
Showing
1
-19 of 19 item(s)
For quality work, you need a good sander, as well as suitable sandpaper (discs) for different ways of sanding. Let's not forget the tools you may also need, such as diamond plates, paper cleaners, abrasive sponges and blocks, various abrasive brushes, maybe even sets – it all depends on what and how much you plan to sand.
Browse our website and find the right products for you. Our offer is really extensive, everyone will find something for themselves, even if it is only for amateur use, where there is only occasionally need for quality sandpaper. You can be sure that you will get everything you need from us.
Because it is easy to use and contains enough attachments and grinding sleeves to meet the needs of every average user. However, before you buy, find out what such sets contain, which drilling machines do the attachments fit and the like.