Combined surface-thicknessing planer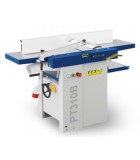 The combined surface-thicknessing planer is extremely popular among hobby carpenters as well as in larger carpentry shops.
The planer/thichnesser takes up less space and enables two processing functions in one machine. Surfacing table on top and thickness planer below. The combined machine with two operations is available from a width of 260 mm up to 520 mm. The length of the surface planer ranges from 1200 mm for the smallest and up to 2350 mm for the largest machine.
You can choose between three different types of planer heads: regular, Tersa and spiral (Xylent).
We mainly represent SCM and Minimax machines.
This term is most often used to describe a machine that combines the functions of a surface planer and a thicknessing planer. In many cases, such a machine proves to be an excellent option, as it offers more functions in a single device, which of course also takes up less space. In most cases, a surface planer is placed on the surface of the workbench, with which we level the desired surfaces of wooden pieces, and under this bench there is a thicknessing planer, with the help of which the pieces are processed to a predetermined width.
SCM and Minimax planers are very popular among carpenters. We have both available in several versions and for different requirements, as we all know that professional use requires slightly more capable devices than a hobby program.
Given that we have many years of experience and enough knowledge, we are definitely the right address for advice. If you have any questions or dilemmas, contact us and together we will choose the best option for you. We believe that we will choose the best planer you can get on the market.