Presses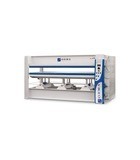 Presses are among the basic machines in the processing of wood and the production of furniture or wooden products.
We offer:
- Orma Macchine and Sergiani (SCM Group) hot presses,
- case clamp presses,
- Orma and Strojles case clamp presses for width gluing and gluing of solid panels,
- Sergiani, Orma and Global Nabuurs vacuum presses for covering irregular shapes,
- Orma high-frequency presses for industry and
- presses for door frames.
For smaller carpentry workshops, we recommend Feichtner Maschinenbau RPZ series combined presses for width-wise joining of massifs and joining of cases or wardrobes.
Showing
1
-19 of 19 item(s)
Presses intended for professional use can be hot, vertical, clamp or vacuum, but of course we also know combined ones. Each is made for a specific purpose, so be aware that not all presses are designed to compress irregular shapes.
Ask yourself what you need a press for. Will you be making ordinary wooden furniture or do you need a press for some more demanding tasks? Knowing this will make your decision easier. A well-chosen press makes your work in a carpentry workshop much easier.
Contact us and we will get back to you as soon as possible. We have a lot of experience, we are constantly upgrading our knowledge, and of course we are constantly monitoring the offer on the market. Only in this way can we provide you with the best products. You can be sure that you will find great tips from us on choosing presses and other machines that you need in the workshop.