Transporters and lift tables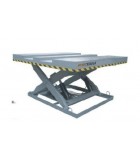 Lifting tables and conveyors are intended for easier manipulation of materials and reducing physical work of the machine user.
They are a solution for adjusting the workplace and relieving the worker.
They prevent back injuries, neck pain and overexertion, which means less absenteeism for the employer.
We offer:
- roller lines,
- lift tables,
- stands for drying lacquered elements,
- rotating stands for varnishing,
- return lines for edge adhesives, contact sanders and machines for panel manipulation.
We represent manufacturers such as SCM, Mahros, Rehnen,...
Showing
1
-28 of 28 item(s)
Such a table can greatly facilitate the lifting of various loads, as it allows easier handling of the material, thus helping the user to perform heavy physical work. This, as we know, has a profound effect on both the human body and well-being.
We know quite a few variants of lift tables, for example roller transporter tables, pneumatic workbenches, conventional lift workbenches, painting racks, hydraulic lift tables, lif rollers, mobile workbenches… Our offer is quite extensive, and we can be of considerable help when choosing.
You can purchase one that you operate manually, for example by turning the lever, or you can choose hydraulic or electric versions. If you are going to use it quite often, we definitely recommend choosing a slightly more automated lift table.