Woodturning chisels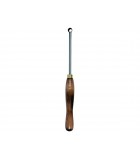 Woodturning chisels are very popular items in our range. We have several different woodturning chisel sets that are suitable for hobbyists as well as professional woodturners. Knives are made of high-speed steel (HSS) or carbide (HM).
For all beginners, we recommend LEMAN wood turning chisels which are made of quality materials and are slightly cheaper. For professional woodturners, we recommend CROWN chisels from Great Britain which are famous for their superior steel, thus enabling longer turning of workpieces between grinding intervals. For users who turn artificial materials in combination with wood (epoxy resins), we recommend carbide chisels. Their main advantage is a longer service life of the cutting edge, less removal during turning, easy replacement of the shape of the blade, ...
All chisels for wood turning are made of high-quality materials, and they can also be viewed in our store in Trzin.
Showing
1
-13 of 13 item(s)
Of course, such a tool is available in multi-part sets that are neatly and conveniently packaged and ready for safe storage and transportation. Most often, such chisels or woodturning knives are available in several widths, so that with the help of one set you can also perform more detailed and precise woodturning work.
In addition to the dimensions and shapes themselves, these chisels also differ in quality – especially depending on the material from which they are made (carbide or high-quality steel). The knives with carbide tips are also intended for processing harder materials and are therefore suitable for professional use.
Browse our online store, but of course you can also visit us in the actual store and see the offer live. We have prepared quality products for you that are affordable at the same time. We will advise you in choosing chisels for both amateur and professional use, so you can trust us.