Edge sanding machine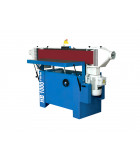 We have a wide range of edge sanders for you. The most affordable sanding machine for wood is the Woodma MM2315, Houfek brand sanders are intended as entry-level program, while Lasm Volpato and Rehnen brand sanders are fully professional. All have oscillating abrasive belt.
One-sided ones with a flat sanding surface and tilting worktable are more affordable.
The double-sided sanders with a sanding pad and additional equipment for sanding rounds are slightly more expensive.
For profile sanding, special wood sanding machines with different aggregates (brushes + sanding belt with pad) of the LS series are available. For sanding profiles and structuring (the effect of old wood), brush machines are available for both edge and surface sanding.
Showing
1
-10 of 10 item(s)
The edge sanding machine, which is made for these very purposes – for sanding the edges with quality – proves to be excellent time and time again. You can choose simple or advanced sanders. One-sided sander is definitely one of the basic ones, but if you want to sand rounds, for example, you can get additional equipment for this purpose.
Again, it all depends on your desires and consequently your choice. In addition to easy sanding of the edges, the edge sander can also offer a tilting workbench, the possibility of polishing, oscillation of the aggregate and the belt, different widths of the belt and the like. Such sanders can also be double-sided with a sanding pad and of course with accessories.
If you are interested in a wood sanding machine, we invite you to contact us. We will contact you as soon as possible and advise you to the best of our ability. We are confident that together we can find the best solution for your needs.