Bandsaws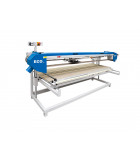 Belt sanders are among the primary sanding machines in the carpentry shop.
The length of the workbench is from 2200 mm to 3000 mm and it is usually movable back and forth, and there is an adjustable sanding pad with a lever.
The belt can be tensioned with a spring, and the replacement itself is easy. Possibility of motorized lifting and lowering of the workbench.
The classic belt sander is a frequently seen piece of equipment in carpentry workshops. Sanding takes place via a long sanding belt and a moving horizontal workbench along the "X" and "Y" axes, where the workpiece is placed. The material is removed via a pressure pad which is mounted on a linear guide for easier left and right movement. Belt sanders are most often found in working dimensions of 2200 / 2500 and 3000 mm, but shorter working dimensions of 1000 mm are also available.
The equipment of the machine can be adapted to the user's wishes, as it is possible to choose between motorized lifting/lowering of the workbench and its lighting, L-R rotation of the belt, frequency converter on the main motor and usable working height.
We represent the brands SCM Group and HOUFEK when supplying belt sanders.
Such a grinding machine (belt grinder) is known for having a movable workbench and a long grinding belt which is particularly suitable for grinding larger pieces of wood, such as flat doors or table tops. Of course, we can also process smaller pieces with it, but their surface must be flat. The grinding belt rotates, and the grinding process is controlled by moving the table and the lever.
Modern belt grinders can be equipped with motorized lifting and lowering of the workbench, they can be illuminated, the belt can rotate in both directions, the working height can be changed… Even in this case (as is the case with other devices) modern technology allows easier operation and handling of the grinding machine.
You can see various grinding devices on our website and in the actual store. We represent quite a few brands and machines, and at the same time we are very experienced and trained on identifying the properties that are most suitable for certain conditions. Trust us with your concerns, address your questions to us, we are here to help you with the greatest pleasure.