English
Your shopping cart is empty.
Login
Safety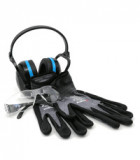 Ear muffs for safe work in the workshop or outdoor assembly.
Quality safety glasses for workshop or outdoor applications.
Top quality Wurth Tigerflex gloves of various sizes. The gloves are suitable for various works in the workshop and also in the field. They are made of quality materials and have a long service life.