English
Your shopping cart is empty.
Login
Kotne žage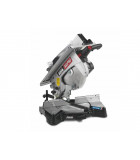 Circular saws are a unique tool for sawing solid wood, wood composite materials, aluminum profiles and similar material. They are very easy to use, which is why a lot of hobby craftsmen use these saws. Our range includes miter saws for professional users for whom it is important that the saw is precise, quiet, light and easy to use. In our offer you can find miter saws by Makita, Festool, Femi, Bosch and others. All saws also require high-quality saw blades for high-quality cutting, which you can view in our store in Trzin or in our online store.
Their great advantage can be derived from their name, as such saws allow sawing at a certain angle. This means that you can quickly and accurately saw material with them at an angle that you specify in advance. This saw is also quite suitable in dimensions and weight, so it is easy to use in the field.
The angle saw is suitable for processing solid wood, materials made of wood composite materials (chipboard, plywood…), as well as for sawing aluminium profiles and the like. The saw is therefore especially suitable for carpenters, it is useful in construction, roofing and elsewhere.
We invite you to check out our offer on the website or in the actual store. In addition to a wide selection of angle saws, we also have a wide variety of saw blades – we will of course adapt their selection to your needs. If you are not completely sure about your choice, of course we are here for you. We will be happy to help you choose a product that will perfectly fulfil your tasks.