Sets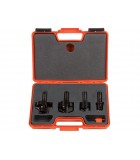 The CNC set for processing doors with thickness ranging from 36 to 56 mm in a single pass.
Set of four HW router bits for making MDF furniture panel doors.
The CMT set for CNC profiling and engraving with interchangeable blades is intended for profiling and engraving solid wood and wood composite materials.