English
Your shopping cart is empty.
Login
Grooving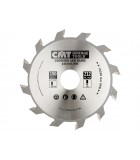 The grooving saw blades are used for cutting/grooving in solid wood and wood based material. The characteristics of these blades are the teeth type (straight teeth), the possibility of stacking one on another, and the small diameters ranging from 150 to 180 mm. They are made of quality steel and hard metal. They are used on rip sawing machines, panel rip sawing machines and table routers.
CMT 240.150 are grooving saw blades of various thicknesses which are used to make grooves on CNC machines, moulders, double-end tenoners and similar machines. Because the saw blades are sanded left and right, they are...